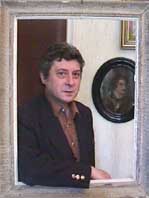 This "cyber gazette" includes news, auction results and comments, advices to buyers and collectors, biographies, adverts as well as an incredible price guide regarding old masters, nineteenth and twentieth century painters and sculptors, furniture, Chinese and Japanese Art, Islamic Art, glass, porcelains and ceramics, books and manuscripts, silver, miniatures etc, and a useful agenda of most exhibitions and auction sales around the world. Let's get tuned to the 21th Century - with Artcult, weave your way throughout the world and give yourself the chance of being discovered by millions of people. Join the Internet, the communication system of the 21st Century.
You'll get the opportunity of becoming known by so many wherever they are. You'll quickly rise to notice in London, New York, Paris, Rio, Hong-Kong, Johannesburg, Peking or Tokyo at the same time.
Those who make Art in New York are already on the Internet. The Internet is surely the best way to promote yourself worldwide for a small fee compared with usual advertising costs in all other media. So don't wait any longer, join them, join us. Beyond this brief overview , you will be able to enter this fascinating world what the art market and learn what makes the odds of a Van Gogh or a Renoir, and be able to spot the ideal piece of art as easily as choosing the right game on
partypoker français
or the best suit for a wedding.
Adrian Darmon